Tuolumne Workshop


August 22 - 26, 2010

Tuolumne Meadows, Bennettville Mine, Soda Springs, Granite Domes, Tenaya Lake, Tioga Lake, Mono Lake, Half Dome Vista & photography of the night sky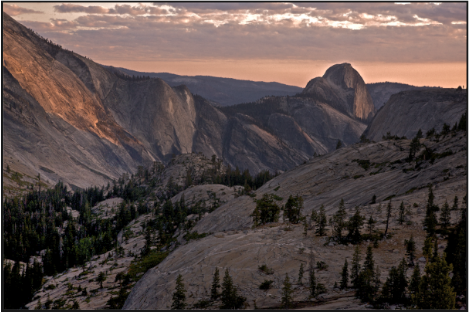 We invite you to explore the less traveled Tuolumne Meadows area in Yosemite's high country and study the strange tufa formations of Mono Lake. This workshop provides a great opportunity to develop your personal style, enhance your creativity, refine your photographic vision and improve your technical proficiency as we visit the by gone mining town of Bennettville, pristine alpine lakes, vibrant green meadows, spectacular vistas and the unique tufa towers of Mono Lake.

With Lee Vining as our base camp, we will enjoy sunrise at near by Mono Lake and the afternoon adventures of Bennettville Mine, Tioga Lake, Saddlebag Lake, Lembert Dome and the beauty of Tuolumne Meadows. Many of these locations require some amount of hiking and are found at elevations over 9,000 feet which make them challenging but rewarding.

Day 1 -
Sunday:
Meet in Lee Vining, California at 4 p.m. for orientation and our first lecture.

Day 2 -
Monday:
We will start our day early, with a sunrise shoot of South Tufa at Mono Lake. We will return to Lee Vining for breakfast and a break. We will start our afternoon trip with an easy 20 minute hike to Bennettville mining town, visit Tioga Lake, and enjoy sunset from the breathtaking views at Olmstead Point.


Day 3 - Tuesday:
Our morning begins early with a sunrise shoot begins at Mono Lake's, Navy Beach. After breakfast and a break, we will have our photo review. Starting our afternoon trip, we will take a water taxi across Saddlebag Lake and hike around the Twenty Lakes area. Although the area is at 10,000 feet, there is little elevation gain. We will enjoy sunset in Dana Meadows with a full moon.


Day 4 -
Wednesday:
We will enjoy a relaxing walk around Tuolumne Meadows, Soda Springs and stay in the area for breakfast. We will experience a short hike on the John Muir Trail as we walk along the Lyell Fork of the Tuolumne River. Lembert Dome and Dog Lake are another short hike to spectacular scenery. Our last location for the day will take us Tenaya Lake for sunset.


Day 5 - Thursday:
Our last sunrise shoot will be at Lundy Lake before our farewell breakfast.
Our workshops emphasize field work, however we feature a balance of field work, a classroom-based session, critical review of your work as well as ample time to answer your questions. This workshop features 2 hours of classroom instruction and 2 hours reviewing workshop participant's images.


Day 1:
4:00-6:00 p.m
Tools
-
mastering your system
.
The session begins with an overview of light, color and perception. It is followed by new approaches to designing a photograph using the FAST methodology, using camera controls effectively, selection of lenses, depth of field and exposure.


Day 3:
11:00-1:00 p.m
Craft
-
workflow and presentation of your work
.
During this session we review and comment on your work. Please bring 3 prints of your 'best' work for evaluation, critical review and sharing with the group.

The workshop is open to all photographers with any experience level from beginner to advanced, using any camera brand or type, digital or film. Your instructors are well versed in the use of Canon, Hasselblad, Leica and Nikon systems as well as point and shoot, digital single lens reflex, rangefinder, medium format and sheet film based view cameras (i.e., 4x5).

This workshop is targeted at photographers working in digital capture and using a personal computer and software such as Apple iPhoto, Apple Aperture, Adobe Lightroom or Adobe Photoshop.

We recommend a digital SLR with interchangeable lenses (with either a full-frame or cropped sensor), a sturdy tripod and ball-type head, a shutter-cable release, and at least two lenses: a wide angle lens and a telephoto lens (or a zoom lens capable of wide angle to telephoto range). Check out our
equipment recommendations
to learn more about our suggestions.

Some workshop participants have previously even used their iPhone as their primary camera on the workshop! Your equipment should never be a limitation for expressing yourself through photography. Well crafted, compelling and emotional artistic images can be captured with virtually any equipment.
What To Bring & The Weather
The weather in Tuolumne Meadows in late August can be mild and beautiful but high elevations are always 10 to 20 degrees cooler than the valley. Daytime temperatures average 70F and nights average of 35F. with a slight chance of rain. Elevation around Tuolumne Meadows is about 8,600 feet with the surrounding mountains to 9,800 feet. Lee Vining sits at 7,175 feet so conditions should be somewhat similar. The key is to be prepared for a wide range of weather conditions and temperatures, bring layers and an outer layer suitable for rain. Hiking boots are the best choice for footwear. Bring plenty of water and snacks during our location shooting. Consult our
gear checklist
to learn what we recommend that you bring.

One thing to keep in mind is that the high Sierra is bear country and food should never be stored in vehicles, even in an ice chest. Bear-proof canisters (3lbs.) are the preferred method of food storage. They can be rented at all Wilderness Permit issue stations or purchased at an outdoor recreation store like
REI
.

Lodging, Meals & Transportation
Workshop participants are responsible for their own lodging, meals and transportation. The town of Lee Vining features many lodging choices that can be found at the website,
Lee Vining Area Motels
We will often eat meals together, however you are free to join us or eat independently.

A vehicle with high ground clearance and 4WD is desirable and recommended but not necessary for this workshop. Car pooling is recommended during our outings and is a great way to get to know your fellow workshop participants, share your passion for photography and learn new points of view. Workshop participants are responsible for any fees for parking, park entrance and park usage.

The workshop will be led by veteran photographers
Glenn Edens
,
Norine Cepernich
and
John Bassetto
. There will be a maximum 4 to 1 student to instructor ratio to insure you have the time, attention and individual assistance you need to learn and practice concepts.

Our top priority during the workshop is to help you shoot. While we may bring camera equipment for demonstration purposes, your instructors do not shoot during the workshop.
The cost of this workshop is $995.00. The workshop is limited to 12 participants.

A detailed agenda, overview maps and locations of meeting places will be sent to you via electronic mail about one week prior to the start of the workshop. A confirmation email, verifying your participation in the workshop, is sent to you within two days after receipt of payment.

To sign up simply follow the instructions on our
Workshop Store
and please read the
Terms, Conditions & Limitation of Liability
information.
Terms, Conditions & Limitation of Liability
Our goal is to provide you with an educational, enjoyable and high quality photographic workshop experience. As a workshop participant you will need to understand, agree to, sign and date a
Limitation of Liability
form.