Antelope Canyon Workshop


September 26 - 30, 2010

Upper and Lower Antelope Canyon, Water Holes Slot Canyon, Marble Canyon, Horseshoe Bend, Vermillion Cliffs, Navajo Bridge and Lake Powell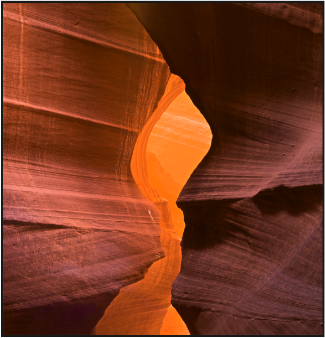 We invite you to explore the unique Navajo Nation Tribal Parks of Antelope Canyon and surrounding area that offer countless scenic wonders. This workshop provides a great opportunity to develop your personal style, enhance your creativity, refine your photographic vision and improve your technical proficiency as we explore the enchantment of Upper and Lower Antelope Canyon, famous Horseshoe Bend overlook, beautiful Lake Powell and many other amazing overlooks and canyons.

Upper Antelope has a condensed beauty and one of the unique areas of interest is the light beans that pierce from cracks on the ceiling shining down into the depths of the deep canyon walls. We will spend two full hours in the canyon plus travel time to get there. Lower Antelope Canyon is much longer and requires metal ladders for a decent into the less traveled canyon with four full hours of time to explore.

Day 1 -
Sunday:
Meet in Page, Arizona at 4 p.m. for orientation and our first lecture.

Day 2 -
Monday:
We will start our day with a sunrise shoot over Lake Powell. We will return to Page for breakfast and a break. We will start our Photo Tour of Upper Antelope Canyon at 10:00 a.m. to 1:00 p.m. We will visit Water Holes Slot Canyon for our afternoon shoot.


Day 3 - Tuesday:
We will be up early for a sunrise shoot of famous Horseshoe Bend. We will return to Page for breakfast and a break. We will begin our four hour shoot of Lower Antelope Canyon at 11:00 a.m. to 3:00 p.m. On our afternoon shoot, we will visit Glen Canyon Dam and the Lake Powell overlook of Wahweap Marina.


Day 4 -
Wednesday:
We will leave after breakfast for Navajo Bridge, Marble Canyon and an uncrowded 2.5 mile round-trip hike inside Cathedral Wash to discover an unusual variety of shapes and multilevel benches and ledges. We will break for lunch and then have a photo review of participants photographs. Our afternoon shoot will take us back to Lake Powell for commanding views from Alstrom Point.


Day 5 - Thursday:
We begin our last day with a sunrise shoot at Stud Horse Point which is an interesting group of pedestal rocks

Our workshops emphasize field work, however we feature a balance of field work, a classroom-based session, critical review of your work as well as ample time to answer your questions. This workshop features 2 hours of classroom instruction and 2 hours reviewing workshop participant's images.


Day 1:
4:00-6:00 p.m
Tools
-
mastering your system
.
The session begins with an overview of light, color and perception. It is followed by new approaches to designing a photograph using the FAST methodology, using camera controls effectively, selection of lenses, depth of field and exposure.


Day 4:
2:00-4:00 p.m.
Review
-
what makes a great photograph?
During this session we review and comment on your work. Please bring 3 prints of your 'best' work for evaluation, critical review and sharing with the group.
The workshop is open to all photographers with any experience level from beginner to advanced, using any camera brand or type, digital or film. Your instructors are well versed in the use of Canon, Hasselblad, Leica and Nikon systems as well as point and shoot, digital single lens reflex, rangefinder, medium format and sheet film based view cameras (i.e., 4x5).

This workshop is targeted at photographers working in digital capture and using a personal computer and software such as Apple iPhoto, Apple Aperture, Adobe Lightroom or Adobe Photoshop.

We recommend a digital SLR with interchangeable lenses (with either a full-frame or cropped sensor), a sturdy tripod and ball-type head, a shutter-cable release, and at least two lenses: a wide angle lens and a telephoto lens (or a zoom lens capable of wide angle to telephoto range). Check out our
equipment recommendations
to learn more about our suggestions.

Some workshop participants have previously even used their iPhone as their primary camera on the workshop! Your equipment should never be a limitation for expressing yourself through photography. Well crafted, compelling and emotional artistic images can be captured with virtually any equipment.
What To Bring & The Weather
The weather in Page, Arizona in late September can be mild and beautiful. Daytime temperatures average 80F and nights average of 55F. with a slight chance of rain. Elevation around Page is about 4,000 feet.

The key is to be prepared for a wide range of weather conditions and temperatures, bring layers and an outer layer suitable for rain. Hiking boots are the best choice for footwear. Bring plenty of water and snacks during our location shooting. Consult our
gear checklist
to learn what we recommend that you bring.

Lodging, Meals & Transportation
Workshop participants are responsible for their own lodging, meals and transportation. The town of Page features many lodging choices that can be found at the website
Welcome to Page Arizona and Lake Powell
. We will often eat meals together, however you are free to join us or eat independently.

A vehicle with high ground clearance and 4WD is desirable and recommended but not necessary for this workshop. Car pooling is recommended during our outings and is a great way to get to know your fellow workshop participants, share your passion for photography and learn new points of view. Workshop participants are responsible for any fees for parking, park entrance and park usage.


The workshop will be led by veteran photographers
Glenn Edens
,
Norine Cepernich
and
John Bassetto
. There will be a maximum 4 to 1 student to instructor ratio to insure you have the time, attention and individual assistance you need to learn and practice concepts.

Our top priority during the workshop is to help you shoot. While we may bring camera equipment for demonstration purposes, your instructors do not shoot during the workshop.
The cost of this workshop is $995.00. The workshop is limited to 12 participants.

A detailed agenda, overview maps and locations of meeting places will be sent to you via electronic mail about one week prior to the start of the workshop. A confirmation email, verifying your participation in the workshop, is sent to you within two days after receipt of payment.

To sign up simply follow the instructions on our
Workshop Store
and please read the
Terms, Conditions & Limitation of Liability
information.
Terms, Conditions & Limitation of Liability
Our goal is to provide you with an educational, enjoyable and high quality photographic workshop experience. As a workshop participant you will need to understand, agree to, sign and date a
Limitation of Liability
form.