Eastern Sierra Fall Workshop


October 4-8, 2009

Fall Aspens,
Ancient Bristlecone Pine Forest, Buttermilk Country, Mono Lake, Little Known Ghost Town and Native American Petroglyphs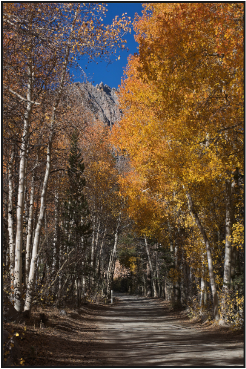 We invite you to explore the fall colors and magic light of Owens Valley. This workshop provides a great opportunity to develop your personal style, enhance your creativity, refine your photographic vision and improve your technical proficiency as we explore the enchantment of fall colors, brilliant aspen groves, beautiful mountain lakes, ancient rock art, little known ghost towns and the strange worlds of Mono Lake and the Ancient Bristlecone Pine Forest.

We visit some of the most popular destinations in Owens Valley, however what makes this workshop unique is the locations that are rarely photographed. We explore one of the finest collections of Native American Indian petroglyphs in California, little known ghost towns, and unusual geologic features of Owens Valley.
Day 1 -
Sunday:
Meet at our classroom in downtown Bishop at 4:00 p.m, please arrive promptly, for orientation and our first lecture. Then meet for an informal dinner at Amigos Mexican Restaurant, 285 N. Main St., at 6:30 p.m.

Day 2 -
Monday:
We leave early for our sunrise shoot of aspen colors in Bishop Creek Canyon. Then return to Bishop for breakfast and break. At 10:45 a.m. meet at our classroom in downtown Bishop for our second lecture followed by a break for lunch. After lunch we leave for our afternoon and sunset shoots at the petroglyphs and a little known ghost town.


Day 3 - Tuesday:
We leave early for our sunrise shoot at Buttermilk Country, then return to Bishop for breakfast and break. At 10:45 a.m. we meet at our classroom in downtown Bishop for our third lecture, followed by a break for lunch. After lunch we travel to our afternoon and sunset shooting at Ancient Bristlecone Pine Forest, elevation 10,000 feet.


Day 4 -
Wednesday:
We leave early for our sunrise shooting at Bishop Creek Canyon, then return to Bishop for breakfast and break. After the break we leave to photograph aspen groves further North. We then pick up a box lunch and begin our Print Review of participants' work at the North shore of Mono Lake. After the Print Review we head South and explore Mono Lake South Tufas for our sunset shoot followed by dinner in Lee Vining and return to Bishop.


Day 5 - Thursday:
We begin our last day with a sunrise shoot at the petroglyphs, with morning light illuminating the beautiful Sierra Mountains in the background. We then return to Bishop for a farewell breakfast and departure by 11:00 a.m. Please join us for an optional visit to the Mountain Light Galleries in Bishop after breakfast.
Our workshops emphasize field work, however we feature a balance of field work, classroom-based sessions, critical review of your work as well as ample time to answer your questions. This workshop features 6 hours of classroom instruction and 2 hours reviewing workshop participant's images.


Day 1:
4:00-6:00 p.m.
Tools
-
mastering your system
.
The session begins with an overview of light, color and perception. It is followed by new approaches to designing a photograph using the FAST methodology, using camera controls effectively, selection of lenses, depth of field and exposure.


Day 2:
10:45-12:45 a.m.
Art
-
taking your photography to art
.
The session begins with the interaction of aesthetics, art and technology: how to use and break the rules effectively. CTF2 - composition, color, tone, texture, form and frame: a model for thinking about your work.


Day 3:
10:45-12:45 a.m.
Craft
-
workflow and presentation of your work
.
The session begins with a tour of "workflow" and we present a simple approach to processing your images. It is followed by a review of using color management effectively and a discussion about preparing your images for presentation on displays, the web and the "fine art" print.


Day 4:
2:30-4:30 p.m.
Review
-
what makes a great photograph?
During this session we review and comment on your work. Please bring 3 prints of your 'best' work for evaluation, critical review and sharing with the group.
The workshop is open to all photographers with any experience level from beginner to advanced, using any camera brand or type, digital or film. Your instructors are well versed in the use of Canon, Hasselblad, Leica and Nikon systems as well as point and shoot, digital single lens reflex, rangefinder, medium format and sheet film based view cameras (i.e., 4x5).

This workshop is targeted at photographers working in digital capture and using a personal computer and software such as Apple iPhoto, Apple Aperture, Adobe Lightroom or Adobe Photoshop.

We recommend a digital SLR with interchangeable lenses (with either a full-frame or cropped sensor), a sturdy tripod and ball-type head, a shutter-cable release, and at least two lenses: a wide angle lens and a telephoto lens (or a zoom lens capable of wide angle to telephoto range). Check out our
equipment recommendations
to learn more about our suggestions.

Some workshop participants have previously even used their iPhone as their primary camera on the workshop! Your equipment should never be a limitation for expressing yourself through photography. Well crafted, compelling and emotional artistic images can be captured with virtually any equipment.
What To Bring & The Weather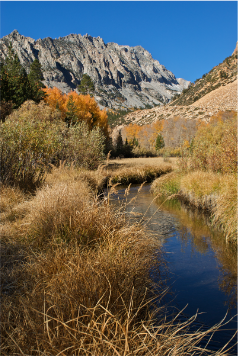 The weather in Owens Valley in early October is part of the magic. It can be mild and beautiful, it might rain or a sudden snow storm might erupt out of nowhere. We've experienced deep blue clear skies without a single cloud or dark grey and stormy with dramatic cloud formations (the latter usually makes for better pictures!). Temperatures around Bishop during the day range from 57F to 95F with a historic average of 60F. At night it can range from 28F to 54F with a historic average of 40F. The chance of rain or snow is historically about 1%. We will be working at high elevations from 4,100 feet (Bishop) to 10,000 feet (Ancient Bristlecone Pine Forest). The temperatures can drop 10F to 30F as we climb in elevation.

The key is to be prepared for a wide range of weather conditions and temperatures, bring layers and an outer layer suitable for rain or snow. Hiking boots are the best choice for footwear. Bring plenty of water and snacks during our location shooting. Consult our
gear checklist
to learn what we recommend that you bring.
Lodging, Meals & Transportation
Workshop participants are responsible for their own lodging, meals and transportation. The town of Bishop features many lodging choices that can be found at the
Bishop Visitor
website. Camping is also available in Bishop at
Brown's Town Campground
. We will often eat meals together, however you are free to join us or eat independently.

A vehicle with high ground clearance and 4WD is desirable and recommended but not necessary for this workshop. Car pooling is recommended during our outings and is a great way to get to know your fellow workshop participants, share your passion for photography and learn new points of view. Workshop participants are responsible for any fees for parking, park entrance and park usage.
The workshop will be led by veteran photographers
Glenn Edens
,
Norine Cepernich
and
John Bassetto
. There will be a maximum 4 to 1 student to instructor ratio to insure you have the time, attention and individual assistance you need to learn and practice concepts.

Our top priority during the workshop is to help you shoot. While we may bring camera equipment for demonstration purposes, your instructors do not shoot during the workshop.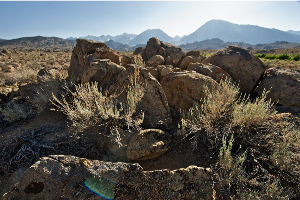 The cost of this workshop is $995.00 and limited to 12 participants.

A detailed agenda, overview maps and locations of meeting places will be sent to you via electronic mail about one week prior to the start of the workshop. A confirmation email, verifying your participation in the workshop, is sent to you within two days after receipt of payment.

To sign up simply follow the instructions on our
Workshop Store
and please read the
Terms, Conditions & Limitation of Liability
information.
Terms, Conditions & Limitation of Liability
Our goal is to provide you with an educational, enjoyable and high quality photographic workshop experience. As a workshop participant you will need to understand, agree to, sign and date a
Limitation of Liability
form.